Trump Signs First Ever Veto Upholding Border Emergency Declaration [VIDEO]
President Trump has vetoed the Senate resolution, his first since taking office.
"Today I am vetoing this resolution. Congress has the freedom to pass this resolution and I have the duty to veto it," said Trump from the oval office, surrounded by law enforcement and 'angel moms.'
During the Oval Office ceremony, Trump said that if the "dangerous" and "reckless" resolution became law, it would put American lives at risk.
The bill will next move to the House for a vote on March 26 in an attempt to override Trump's veto – however leaders lack the 2/3 support of the chamber required to overcome the veto. 
For those keeping track of presidential vetoes at home: 
Bill Clinton 36
George W. Bush 12
Barack Obama 12
Donald Trump 1
***
Following President Trump's vow to veto the Republican-led Senate vote to block his emergency declaration to fund his long-promised southern border wall, Trump will sit down with "angel moms" to override the Senate.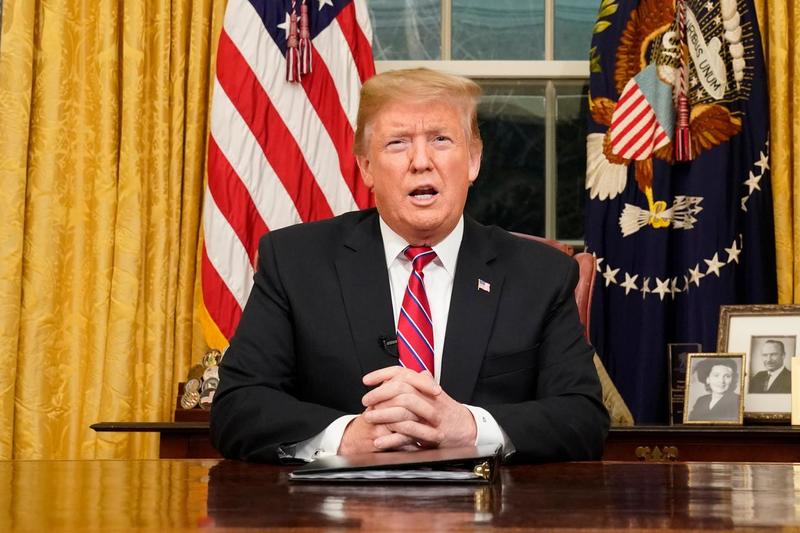 Of note, the Senate does not have the votes to override Trump's veto – his first since becoming President. That said, Thursday's vote serves as a rebuke of the president by his own party over border security. 
Shortly after the Senate voted 59-41 to overturn Trump's February 15 national emergency which would allow him to allocate up to $8 billion towards the wall, Trump tweeted: "VETO!"
VETO!

— Donald J. Trump (@realDonaldTrump) March 14, 2019
"It's pure and simple: It's a vote for border security; it's a vote for no crime," Trump told reporters prior to the Senate vote – which he called "a vote for Nancy Pelosi, Crime, and the Open Border Democrats!" in a Thursday morning tweet.
A vote for today's resolution by Republican Senators is a vote for Nancy Pelosi, Crime, and the Open Border Democrats!

— Donald J. Trump (@realDonaldTrump) March 14, 2019
Trump is also likely to address Thursday's mass shootings in New Zealand in which several individuals attacked two mosques, killing 49 people. One gunman penned a lengthy manifesto in which he praised President Trump as "a symbol of renewed white identity and common purpose." 
This article appeared at ZeroHedge.com at:  https://www.zerohedge.com/news/2019-03-15/watch-live-trump-vetoes-congressional-bill-overturn-border-national-emergency